Maxwell Quartet with pianist Awadagin Pratt
April 22, 2023 at 3 p.m.
Minsky Recital Hall
Get Tickets
Maxwell Quartet with pianist Awadagin Pratt
Saturday, April 22, 2023 at 3 p.m.
Minsky Recital Hall
1st Prizewinner and Audience Prizewinner at the 9th Trondheim International Chamber Music Competition in 2017, and hailed as "brilliantly fresh, unexpected and exhilarating" by The Scottish Herald, and "superb storytelling by four great communicators" by The Strad Magazine, the Maxwell Quartet is now firmly regarded as one of Britain's finest young string quartets,  with a strong connection to their folk music heritage and a commitment to bringing together wide-ranging projects and programs to expand the string quartet repertoire.
Pianist Awadagin Pratt will be joining the quartet as guest artist to perform the piano quintet, "Clouds," by Jamaican-British composer Eleanor Alberga.
Tickets: $37 | K-12 free | All fees included
Program:
Haydn: Op. 77 no.1 in G major, Hob.III:81
Work Songs (Scottish Folk Music)
Eleanor Alberga: Clouds, for Piano Quintet
Dvorák: Quartet No. 13 in G Major, Op. 106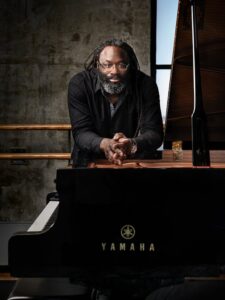 Awadagin Pratt
Among his generation of concert artists, pianist Awadagin Pratt is acclaimed for his musical insight and intensely involving performances in recital and with symphony orchestras.
Born in Pittsburgh, Awadagin Pratt began studying piano at the age of six. Three years later, having moved to Normal, Illinois with his family, he also began studying violin. At the age of 16 he entered the University of Illinois where he studied piano, violin, and conducting. He subsequently enrolled at the Peabody Conservatory of Music where he became the first student in the school's history to receive diplomas in three performance areas – piano, violin and conducting. In recognition of this achievement and for his work in the field of classical music, Mr. Pratt received the Distinguished Alumni Award from Johns Hopkins as well as an honorary doctorate from Illinois Wesleyan University after delivering the commencement address in 2012.
In 1992 Mr. Pratt won the Naumburg International Piano Competition and two years later was awarded an Avery Fisher Career Grant. Since then, he has played numerous recitals throughout the US including performances at Lincoln Center, the Kennedy Center, Dorothy Chandler Pavilion in Los Angeles, Chicago's Orchestra Hall and the NJ Performing Arts Center. His many orchestral performances include appearances with the New York Philharmonic, Minnesota Orchestra and the Pittsburgh, Atlanta, Baltimore, St. Louis, National, Detroit and New Jersey symphonies among many others. Summer festival engagements include appearances at Ravinia, Blossom, Wolftrap, Caramoor and Aspen and the Hollywood Bowl. Internationally, Mr. Pratt has toured Japan four times and performed in Germany, Italy, Switzerland, Poland, Israel, Columbia and South Africa.
Recent and upcoming appearances include recital engagements in Baltimore, La Jolla, Los Angeles, Pittsburgh, Ravinia, Lewes, Delaware, Duke University and at Carnegie Hall for the Naumburg Foundation; as well as appearances with the orchestras of Cincinnati, Indianapolis, North Carolina, Utah, Richmond, Grand Rapids, Memphis, Fresno, Winston-Salem, New Mexico, Rockford, IL and Springfield, OH. He also serves on the faculty of the Eastern Music Festival in Greensboro, North Carolina where he coaches chamber music, teaches individual pianists and performs chamber music and concertos with the festival orchestra.
Also an experienced conductor, Mr. Pratt has conducted programs with the Toledo, New Mexico, Vancouver WA, Winston-Salem, Santa Fe and Prince George County symphonies, the Northwest Sinfonietta, the Concertante di Chicago and several orchestras in Japan.
A great favorite on college and university performing arts series and a strong advocate of music education, Awadagin Pratt participates in numerous residency and outreach activities wherever he appears; these activities may include master classes, children's recitals, play/talk demonstrations and question/answer sessions for students of all ages. He is also frequently invited to participate on international competition juries, such as the Rubinstein International Piano Master Competition in Israel, the Cleveland International Piano Competition, Minnesota e-Competition, the Unisa International Piano Competition in International Competition for Young Pianists in Memory of Vladimir Horowitz in the Ukraine.
In November 2009, Mr. Pratt was one of four artists selected to perform at a classical music event at the White House that included student workshops hosted by the First Lady, Michelle Obama, and performing in concert for guests including President Obama. He has performed two other times at the White House, both at the invitation of President and Mrs. Clinton.
Mr. Pratt's recordings for Angel/EMI include A Long Way From Normal, an all Beethoven Sonata CD, Live From South Africa, Transformations and an all Bach disc with the St. Lawrence String Quartet. His most recent recordings are the Brahms Sonatas for Cello and Piano with Zuill Bailey for Telarc and a recording of the music of Judith Lang Zaimont with the Harlem Quartet for Navona Records.
Mr. Pratt is currently a Professor of Piano at the College-Conservatory of Music at the University of Cincinnati. He also served as the Artistic Director of the World Piano Competition in Cincinnati and is currently the Artistic Director of the Art of the Piano Festival at CCM.
___________________
For a quick listen of Maxwell Quartet's music, watch the video below!
Maxwell Quartet
The quartet performs regularly across the UK and abroad, at venues including London's Wigmore Hall, Purcell Room, Queen's Hall Edinburgh, and Perth Concert Hall. The quartet has toured widely across Europe, with performances in France, Italy, Germany, the Netherlands, Belgium, Denmark, Norway, and Portugal, including at Rheingau Festival, Tivoli Copenhagen, Muziekgebouw Amsterdam, Stavanger Kammermusikkfestival, Just Classik Festival, Wonderfeel Festival, Lammermuir Festival, Cheltenham, St Magnus, and many more.
The Maxwells' debut tour of the USA in January 2019 garnered critical acclaim from the New York Times ("eloquent performers who bring the same sense of charisma and sense of adventure to their programming"), and saw the group performing to sold out venues in New York, Florida, California and Washington. In 2020, the quartet undertook a 35-date tour of the United States. The quartet's collaborators have included the Danish String Quartet, Calidore Quartet, pianist Imogen Cooper, clarinettist Kari Krikku, baritone Roderick Williams, and folk duo Chris Stout & Catriona McKay. The Quartet's debut CD on Linn Records, released in March 2019 and featuring string quartets by Haydn alongside the quartet's own compositions based on Scottish traditional folk music, received unanimously glowing reviews from international press, and reached number 3 in the classical specialist charts. In 2021, the follow-up album Haydn String Quartets Op 74 / Folk Music from Scotland received widespread critical acclaim and reached number 6 in the classical specialist chart, as well as being selected as one of Apple Music's "10 Best Albums of the Month (Classical)".
The Quartet is formed of four close friends, who grew up playing folk and classical music together in youth orchestras and music schools across Scotland. The group officially began in 2010 at the Royal Conservatoire of Scotland, where its founding members met as postgraduate students. In 2011, the Maxwell Quartet was named as Residency Artists for Enterprise Music Scotland 2011- 2013, which saw several acclaimed concert tours over their two-year tenure. Performing widely across Scotland, the quartet established a reputation for delighting audiences with their "unnaffected enthusiasm" (North Highland Times) and their "panache and conviction" (Strathearn Herald). The quartet has since held residencies at Oxford University, Perth Concert Hall and many chamber music festivals across the UK, including their own festival Loch Shiel in the west highlands of Scotland, and a new self- curated concert series at Guardswell Farm in Perthshire. The quartet currently holds the position of Associate Artist at the Royal Conservatoire of Scotland in Glasgow, and at Music at Paxton Festival in the Scottish Borders. Passionate about collaborating with musicians and other artforms, the quartet has worked with a global roster of artists and institutions including theatre company Cryptic, installation artists Wintour's Leap, the Royal Ballet School, soul duo Lunir, folk duo Chris Stout & Catriona MacKay, cinematographer Herman Kolgen, and many more. In addition to a busy concert diary, the quartet regularly feature in broadcasts for BBC Radio 3 and BBC Radio Scotland, as well as regularly giving schools workshops and concerts for children.
The Maxwell Quartet has studied with the Endellion Quartet through a Chamber Studio mentorship programme at King's Place, and privately with Hatto Beyerle, founding member of the Alban Berg Quartet, in Hanover, Germany. Other mentors have included Miguel da Silva (Quatuor Ysaye), Erich Hobarth (Quatuor Mosaiques), and Krysztof Chorzelski (Belcea Quartet).
The quartet plays on violins by David Tecchler and Giovanni Batista Rogeri, a viola by J.B Vuillaume, and a cello by Francesco Ruggieri (1670), all on loan from generous benefactors. Additionally they perform on modern instruments by British makers Roger Hansell, John Dilworth, and David Rattray.
Thank you to our Chamber Music Series sponsors:
Thank you to our Chamber Reception sponsor: