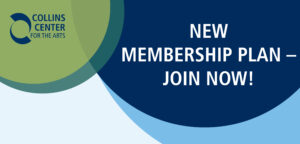 Dear Patrons,
Get ready to experience a season like never before! We are thrilled to unveil our brand new membership plan, designed to celebrate and reward our dedicated patrons and supporters. Enjoy exclusive benefits such as advance notice of events, early access to ticket sales, behind-the-scenes events, and social gatherings. Join others who share your commitment to performing arts in our community and start creating memories to last a lifetime!
HOW DOES THE PLAN WORK?
MAKE A GIFT – BECOME A MEMBER!
It really is that simple.  Make a donation to the CCA, and you're a member for a full year from the date of your contribution. Respond to our annual appeal, help fund our chamber music series, contribute to the endowment fund, or give without being prompted — just because you love and want the best for the humans in your community (the true meaning of "philanthropy")!
Scroll down for information on joining and for contact information. Please know that we are thankful for each and every contribution. Members at all levels play a crucial role in supporting our diverse range of programs and performances, bringing enriching experiences into the lives of those in the UMaine community, the Bangor region, and beyond.
---
Here are the various levels of support with corresponding benefits:
FRIEND ($25-$99)
First to Know – You'll get first notification for the upcoming season and any events added throughout the year, when possible.
Early Seat Selection – As a member, you'll be able to choose the best seats available before they go on sale to the public, when possible. We will always try to place you as close as we can to your favorite seats.
Listing on lobby donor screen during all CCA events.
Unlimited ticket exchanges.
No mailing fees – Receive tickets in advance.
---
CONTRIBUTOR ($100-$249)
Friend benefits, plus:
Listing by donor level in programs.
Names listed on pre-show slide show in order by donor level.
Invitation to pre-show receptions in the Patron Lounge.
---
PATRON ($250-$499)
Contributor benefits, plus:
Access to special discount offers on specific shows.
Special gift – CCA tote bag.
Behind the scenes experiences during the season.
For donations that exceed $250, deduct $75 to determine the tax-deductible amount.
---
BENEFACTOR ($500-$999)
Patron benefits, plus:
Invitation to Treats & Tours – Get a private tour of the Hudson
Museum collection area.
Tickets for friends. We select the shows, you select your guests — 2 tickets per season!
Discount coupons to Miller's Café.
---
For an even bigger impact, JOIN THE CIRCLE!
DIRECTOR'S CIRCLE ($1,000-$2,499)
Benefactor benefits, plus:
Photo featured on website in "Member Spotlight."
Invitation to a luncheon for Circle members.
Membership in the University of Maine's

President's Club.
---
CHAIR'S CIRCLE ($2,500-$4,999)
Director's Circle benefits, plus:
Seat named for donor or designee.
---
PRODUCER'S CIRCLE ($5,000+)
Chairman's Circle benefits, plus:
Photo prominently displayed in the CCA.
---
BECOME A MEMBER!
Make a gift – become a member! Gifts, including recurring payments, can be made here, or click the DONATE button above.
FAQs – We have answers to many questions on our website. Learn more here.