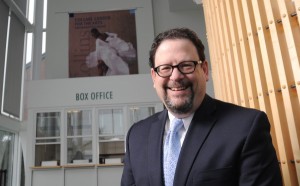 Dear Friends,
It is with great excitement and enthusiasm that I welcome you to the Collins Center for the Arts.
We believe that the performing arts have the power to inspire, uplift, and bring people together. We're thrilled to offer the magic of live performance right here in Orono.
Our team has been working tirelessly to plan an exceptional season of events that includes a wide range of artistic disciplines and cultural traditions. Our stage and screen will host everything from classical music to cutting-edge theater, dance, comedy, and so much more.
In addition to our commitment to showcasing the best of the performing arts, we believe that the arts should be enjoyed by everyone, regardless of their background or financial means. We are dedicated to making our shows accessible to all members of the community and strive to keep ticket prices affordable, and we offer special discounts for students, seniors, and groups.
By attending our performances, you're not only treating yourself to a wonderful experience, but you're also supporting the arts in our region and helping us to continue our mission of enriching the lives of our community members. We are deeply grateful for your support, and we promise to do our best to make your time with us as memorable and inspiring as possible.
As William Shakespeare once said, "If music be the food of love, play on." And play on we shall, with a lineup of performances that will ignite your passion for the arts and nourish your soul.
So, I invite you to join us in celebrating the power of the performing arts to unite us, uplift us, and bring beauty into our lives, and I look forward to seeing you soon at the Collins Center for the Arts.
Danny Williams,
Executive Director