Dreamers' Circus
February 26, 2023 at 3 p.m.
Minsky Recital Hall
Get Tickets
Dreamers' Circus
Sunday, February 26, 2023 at 3 p.m.
Minsky Recital Hall
Dreamers' Circus is an ambitiously inventive Scandinavian trio taking the new-Nordic music scene by storm. Winners of five Danish Music Awards, the trio's sound is based on virtuosic and incendiary musical ability across a range of instruments that includes violin, accordion, piano and cittern. Endlessly exploring new challenges for themselves and for audiences, Dreamers' Circus mine their backgrounds in traditional and roots music to present a genre-bending amalgam of folk sensibility, jazz improvisation and classical complexity distilled through an openness to popular music influences. The result is music that is resolutely contemporary and rhythmically and melodically engrossing.
The trio's members are Danish violinist Rune Tonsgaard Sørensen (who is also a member of the renowned Danish String Quartet), Danish pianist and accordionist Nikolaj Busk and Nordic-cittern player Ale Carr (from Sweden).
How it all started –
Late one night in 2009 Nikolaj pushed open the door of a bar in Copenhagen and chanced upon Rune and Ale Carr, playing some traditional Nordic tunes. Spotting a piano in the corner of the room Nikolaj joined the pair. Within minutes it became clear that there was an instant musical chemistry happening. Since that first meeting Dreamers' Circus has toured widely, performing not just in their native Scandinavia but also throughout Europe and in Japan, Australia and North America.
A sample of the praises critics have given the trio:
"World-class folk music," "equilibristic euphony and acrobatics of the highest order," and "probably one of the best albums to come out of Denmark for a long time" 

Adults $37 | K-12 $15 | All fees included

Learn Before You Go!
Prior to the concert, we invite you to attend a talk and reception, starting at 2 p.m. in the Bodwell Lounge on the 3rd floor of the CCA. The talk will be conducted by cellist and music educator Marisa Solomon who will be joined by Bangor Symphony violinist Chris Nemeth and his daughter, Marie. They will perform a few tunes from the Dreamers' Circus "Handed On" sheet music. Marisa will discuss the handed on project, which is intended to pass on Dreamers' Circus new Nordic folk music to future generations. 
About Marisa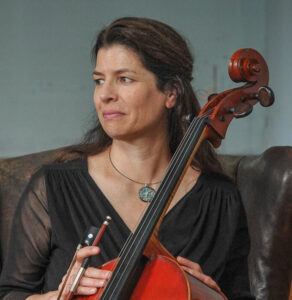 Cellist Marisa Solomon received performance degrees from the Oberlin College and San Francisco Conservatories. She is the Director of the Kneisel Hall Program for Maine Students, and serves on the board of the Chamber Music Society at the Collins Center for the Arts. Marisa is a member of the Bangor Symphony Orchestra, the Ceólta Cello Duo, and is adjunct faculty at UMaine in Orono. Festivals include Kneisel Hall, the Aspen Music Festival, the International Festival-Institute at Round Top, Spoleto USA, Festival de due Mondi in Spoleto, Italy, and the Breckenridge Music Festival in Colorado. 
Photo credit: Kevin Couture
Marisa's pre-performance talk is free and open to the public.
Thank you to our series sponsor:

Please note that we no longer have any COVID restrictions, but we encourage everyone to follow CDC Quarantine & Isolation recommendations. UMaine's current COVID policies can be found here.