Martina McBride
March 14, 2020 at 7 p.m.
Collins Center for the Arts
More information
Martina McBride
Saturday, March 14, 2020 at 7 p.m.
Collins Center for the Arts
This concert has been postponed. Please click the 'more information' button to read our updates.
In a partnership with Waterfront Concerts, we're pleased to present multiple Grammy nominated country icon, MARTINA McBRIDE!
Martina McBride's incomparable vocals have kept her at the top of the charts garnering six No. 1 hits and twenty top 10 singles. Selling more than 18 million albums to date, McBride has earned fourteen Gold, nine Platinum, three Double Platinum and two Triple Platinum certifications.
Most recently McBride released It's The Holiday Season, a 9-song holiday album. For this album, McBride collaborated with the late Patrick "Pat" Williams who arranged a set of classic Christmas songs with accompaniment from more than 35 world-class musicians at the famed Capitol Studio in Los Angeles and Blackbird Studio in Nashville. This release follows her 1998 multiplatinum White Christmas.
On October 30, 2018 Martina released her second cookbook, Martina's Kitchen Mix: My Recipe Playlist for Real Life. The new collection includes nearly 300 pages of family recipes and new creations from her own kitchen. In 2014, McBride released her first book, Around the Table, a full-color illustrated collection of her favorite recipes, hosting tips, practical menu planning advice, and themed décor inspiration.
Last year also saw the debut of McBride's Food Network show, Martina's Table. McBride shares recipes from her cookbooks, what life on the road is like, and hosts inspirational gatherings for friends and family.
McBride has been honored with more than 15 major music awards, including four wins from the Country Music Association and three Academy of Country Music Awards for Female Vocalist of the Year.
When Martina isn't in the studio, she focuses her time on charitable causes dear to her heart. Through her Team Music Is Love charity initiative, Martina partners with non-profit causes to help many of the communities she's performing in. Martina also invites fans to join her team in making the world a better place through the power of music. Since 2011, Team Music Is Love has been responsible for many successful fundraising and volunteer projects helping causes such as hunger relief, cancer research, combating domestic violence and helping children in need. For more information, please visit TeamMusicIsLove.com. McBride has been awarded the Covenant House Beacon of Hope Award and Music Business Association's prestigious Harry Chapin Memorial Humanitarian Award for her philanthropic efforts on behalf of domestic violence.
McBride resides in Nashville with her husband, John, and their three daughters. You can keep up with her on Facebook, as well as Twitter and Instagram. For tour dates, please visit her website.
Ticket prices:  $49.75 to $129.75, in $10 increments — including fees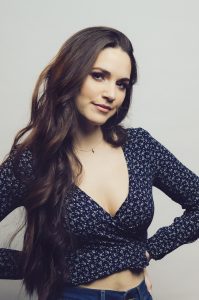 Opening for Martina will be Nashville recording artist and Country music singer/songwriter Hannah Ellis, who has more personality and energy than most of the people you know, combined. The Campbellsville, KY-native, and University of Kentucky graduate, boasts a resume most would have a hard time even envisioning, including graduating from her alma mater – on a full-ride academic scholarship – in less than 4 years. Rolling Stone has named her to their "Artists To Watch" list, CMT named her one of their "Next Women of Country," and American Idol mentor, and iHeart Radio DJ, Bobby Bones, recently invited her on to his nationally-syndicated Country music morning radio show. Hannah competed during Season 8 of The Voice on NBC. She sang the National Anthem at a University of Kentucky basketball game, a bucket-list item now crossed off the list. Ellis has written songs recorded by artists spanning multiple genres, including: Russell Dickerson, Carly Pearce, Emily Weisband, Cassadee Pope, Sidewalk Prophets, and Filmore. She has toured with Gavin DeGraw, Dwight Yoakam, Devin Dawson, and many others, and has toured as part of the CMT "Next Women of Country" Tour. Back to her Kentucky roots, Hannah was featured in a national television advertising campaign, where her university proudly showed off Hannah successfully pursuing and achieving her dreams. New music is coming soon so stay tuned at HannahEllisMusic.com!